News
Ten Years Later, Lone Wolf Still Resonates With Fans

Continues to be a Christmas gift favorite

Nov. 28, 2017 - Just over 10 years ago—August 7, 2007, to be precise—Lone Wolf was released. The highly-anticipated autobiography of sprint car superstar Doug Wolfgang, the book made an immediate impact on readers throughout the motorsports community. Featuring a frank and candid dialogue from one of racing's most interesting characters, the book offered an unflinching glimpse of the powerful and complicated forces that come into play during difficult life episodes.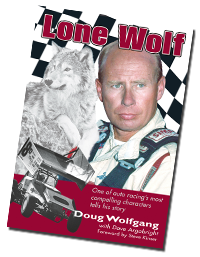 A decade later the book remains as compelling and relevant as ever. As a story, Lone Wolf has enjoyed a unique staying power, continuing to appear on Christmas wish-lists of racing fans from across the nation. It has allowed a new generation to learn about the man who had an enormous impact on sprint car racing.
"We continue to hear from young people who weren't yet born during Doug's racing career, but they're fascinated and excited to learn about him," says Lone Wolf co-author Dave Argabright. "That's a good indication of the compelling nature of Doug's personality. The world tends to forget people once they're out of the limelight, but Doug—and his story—has really stayed with people."
Throughout his spectacular career Wolfgang had a knack of deflecting any praise directed his way, and perhaps that is further reason people were drawn to him. To this day, the Sioux Falls, South Dakota native tends to step away from the spotlight.
"I think the book has been popular because people were always able to relate to me as a regular person, and not some kind of a star," he says today. "The way Dave wrote the book, people reading it can feel like they're riding with us down the road in the truck or something. People enjoy that experience, and I think that's a big part of why the book has been successful through the years."
Lone Wolf is more, however, than simply an enjoyable read. There is something within those pages that has drawn people in and left an enduring impression. Those close to the publishing industry long ago recognized that some books are much more than a gathering of bound pages.
"Every so often we get a call and this guy says, 'This is Doug Wolfgang out in South Dakota. Do you remember me?'" says Lew Boyd of Coastal 181, one of the nation's largest dealers of motorsports books and literature. "We laugh every time he calls us…how could anyone ever forget Doug Wolfgang?
"As far as the book itself, Lone Wolf is terrific. It's the kind of book you never forget. Sometimes people will ask us to recommend an all-around good, entertaining book about racing. Lone Wolf is one of the two or three that we always recommend, because the feedback on the book through the years is nothing less than fabulous."
Ten years later, Lone Wolf is still going strong. The legend of Doug Wolfgang rolls on.
LONE WOLF
Foreword by Steve Kinser

Hardcover, 5.5 by 8.5 inches, 352 pages
32 pages of color and b/w photographs
List price $29.95