Sprint Car Challenge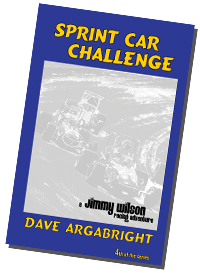 BOOK 4 IN THE "JIMMY WILSON" SERIES!
Sprint Car Challenge is the fourth book in the highly-acclaimed Jimmy Wilson saga. It covers a new and different season for Jimmy, as he faces a very personal and serious challenge away from the racetrack. Amid great stress and upheaval Jimmy and his crew fight down to the wire in the race for the USAC title. Lots of memorable episodes and moments in this story!
The popular and long-running "Best of Times" fictional series in SprintCar & Midget Magazine is the basis of this edition, thrilling readers with the cheers and tears of sprint car racing in the 1970s.
Hardbound, 5.5 by 8.5 inches, 336 pages

List price: $24.95 - REDUCED PRICE $14.95

Release date: November 2, 2015
There are no products listed under this category.